When Considering an Electric Vehicle - Everyone wants to Know - Where do I Charge it up when I am out traveling?
With the Electric vehicle Charging Environment, similar to Gas Stations, there are Brands, or Networks, and most of them have their own membership card to use at present. In these cases, you will need to have setup a membership with that brand to use their Chargig Stations.
Some Networks have User Fees, Flat Fees, or Monthly Fees, so it is wise to learn the terms of them ahead of time.
While there are some movements to group, or consolodate, these networks toegether, this has not yet fully developed, so it is wise to learn about who the networks are, what are their requirements, and where they are used!
Of course - since it is expected your vehicle will be parked at home from 6 - 12 hours or more per day, the Home should be your first Consideration where to charge it up. These points are covered in our EV Charging Maps page.
Most Charging Networks offer some form of Membership, which may in itself, be Paid or Unpaid. Some offer Membership without banking information, which will allow you access to networked stations that do not charge, but for those that charge, you typically will need some Payment information attached to the Membership account.
Charging Networks
A Selection of Charging Networks can be found by a search on the Internet, but here are a few of the more popular ones:
For those closer to Southern Onbtario - here is a clip from PlugShare on August 18th, 2013 to show just how many chargers are already installed!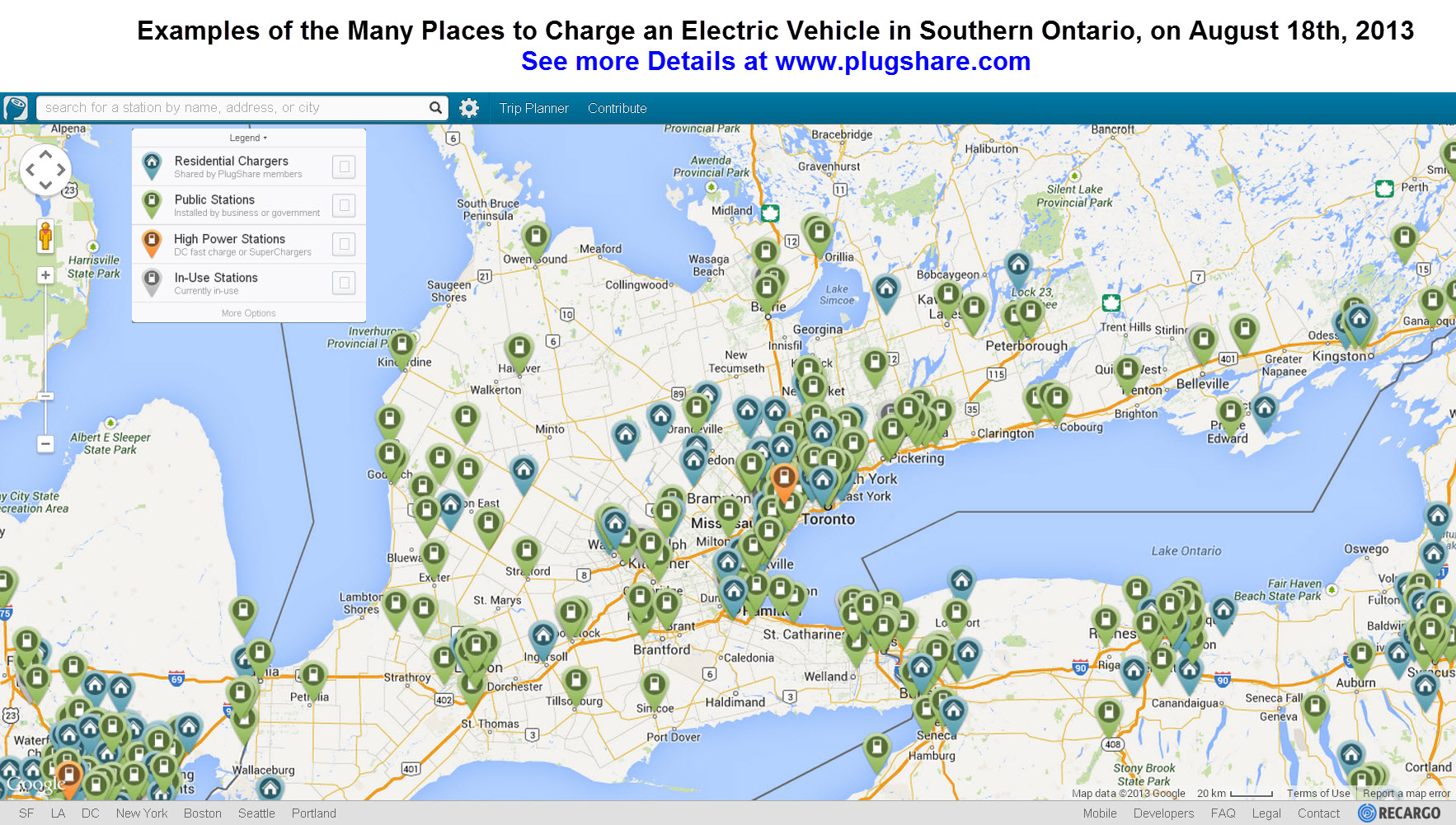 A Wider Look at PlugShare EV Charging Station Listings on March 14th, 2016: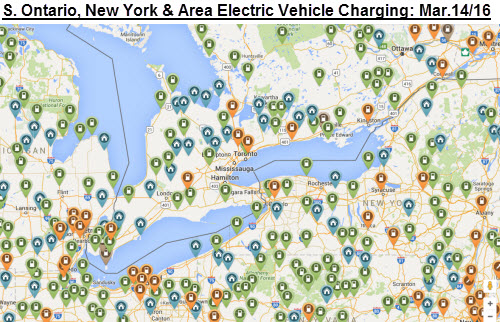 So - as you see - there is a large increase of the numbers of Electric Vehicle Charging Stations, including a great many more DC Quick Chargers (the Orange Markers), and in ontario there has begun a program to greatly expand the number of these Fast Chargers across the Province as well!