EV Fest Electric Vehicle Show - Past Events
EV Fest - Past Events List
First Show: See EV Society Events for the
EV Show & Shine BBQ 2010
| | |
| --- | --- |
| EV Fest 2010 | The First EV Fest! (But the Second EV Show I worked on!) |
| EV Fest 2011 | The Second Annual EV Fest! 1st at Evergreen Brick Works! |
| EV Fest 2012 | The Third Annual EV Fest! 2nd at Evergreen Brick Works! |
| EV Fest 2013 | The Fourth Annual EV Fest! 1st at BAKA Mobile! |
| EV Fest 2014 | The Fifth Annual EV Fest! 1st at Hamilton! Our New Home! |
| EV Fest 2015 | The Sixth Annual EV Fest! 2nd at Hamilton! Returning Home! |
Besides EV Fest - We have supported other Events with Electric Vehicle Shows - starting with Formula North, creating Electric Avenue 2013, and have been invited to consider International Events as well. (To Be Announced at a later date.)
EV Fest Past Exhibitor List Pages:
EV Fest's Beginnings
EV Fest Electric Vehicle Show began it's history as EV Show & Shine BBQ, and grew to become EV Fest, Toronto's Premier Electric Vehicle Fall Festival, is an evolving event and activity, fixed in it's goal to show the public past, present, and future choices in transportation that can reduce their expenses, improve their efficiency, and reduce their waste, both in terms of pollution of the air we breath, and the money we spend to get around!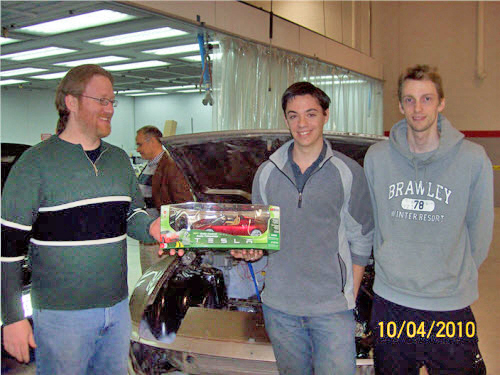 It is also Flexible in that anything that can support these goals may be exhibited at the show, with our desired primary subject to be Electric Vehicles, which today means 'Battery Electric Vehicles' as the only affordable and viable choice available to most people, be they a Tesla Roadster, or an eBike, or anything in between, most of us have not had general access to Super capacitors or Hydrogen Fuel Cells at an affordable price to buy at retail or be incorporated in a Do-It-Yourself Project.
Other Electric Vehicle Events and Shows will be listed here from time to time.
Partnership Events with EV Fest:
Electric Avenue 2013 - with Formula North: May 26th, 2013
Videos Related to EV Fest
EV Fest 2011, by O'Neill Real Estate's Gregory Lamb
Private Exhibitor Vehicles Videos:
SingularMotionEV Porsche 944 at EV Fest - #1

Toronto Electric A2B