EV Fest NEWS
Watch here for announcements relating to EV Fest, and relevant information.
EV Fest Electric Vehicle Show 2012 information Launched!
September 8th, 2012
Just a few hours to go, and EV Fest breaks all records - with 44 Registerd Exhibitors! Fourty-Four! From just about 17 only just over 2 years ago! See the current list of Exhibitors, and also special Thanks to our Sponsors - a First for EV Fest 2012 - Plug'nDrive Ontario, and The Institution of Engineering and Technology! ( Their Logos & Links are at the Foot of each page! )
Let's also not forget - we also have Three (3) Donors this year as well!
We Promise - this year will be a whole new game - with another new venue at the Pavilions - (and whole new challenges for making a great show for you!) If you are Volunteering at EV Fest 2012, Thank you! - We Also have brought a few drinks for Refreshement - Water, and Iced Tea - Ginseng, and withRed Apple! Just for our Hard working Volunteers - and busy Exhibitors, something to keep the Whistle Wetted!
On site at the Evergreen Brick Works this year - Cafe Belong - is offering a new Grab & Go Menu - of light snacks and easy food and drinks - just for us - and to help us save time and money!
Just a bit of the things we have worked on to make your stay here for the day more enjoyable!
August 29th, 2012
Thirty Three (33) Exhibitors are now Registered for EV Fest 2012! More than 24 Vehicles Registered!
Since the 23rd of August - We have been joined by these Exhibitors: Brian James with a 1974 Sebring vanguard CitiCar, Toronto Hydro, Bringing the Smart Electric Drive, and Renny Schweiger, bringing hsi 2011 Nissan LEAF He bought just 2 weeks after seeing it at EV Fest 2011!
August 23rd, 2012
Thirty (30) Exhibitors are now Registered for EV Fest 2012! More than 20 Vehicles Registered! EV Fest 2012 Now Represents nearly 100 Years of Electric Vehicles - with Vehicles coming ranging from a 1916 Rauch & Lang Electric Vehicle to the newest EV From Toyota - the RAV4 EV SUV! Follow that link for the full list, and subscribe to our EV Fest News Update List to stay Informed!
Since the 6th of August - We have been joined by these Exhibitors: Oakville Yamaha with their ZERO Motorcycles, The Inventors Co-op, the Addition of a Second Vehicle from Toyota - the RAV4 EV, and a 1984 KurbWatt electric Postal Vehicle.
August 6th, 2012
Busy Week with 3 new Exhibitors Committed and Registered! Bill is coming and showing EV Memorabilia, Accelerated Systems will be showing Electric Vehicle Controllers and more. One More OEM Manufacturer has joined us - with Toyota Canada Returning to Exhibit their now on sale Prius PHV! See their vehicle and links in the list of EV Fest 2012 Exhibitors and Pictures, from the sub-menu under 'About'.
July 31st, 2012
Another Previous EV Fest Exhibitor Returns! Aaron Cake is returning with his 2000 Honda Insight to share with his fellow exhibitors and the many interested guests of EV Fest 2012! See his vehicle and links in the list of EV Fest 2012 Exhibitors and Pictures, from the sub-menu under 'About'.
May 21st, 2012
Additional News Links added today covering Electric Vehicle News in 2012, and also Energy Links for 2012, as well as some additional 2012 Relevant and interesting News links. A Selection of EV Books Also Added. See the 'Electric Vehicle News 2012' page.
A Special time Limited Promo was also issued today! Find the New Image, click it, and Save 50% on Family tickets for a Limited time! (Hint - See the EV Fest Blog for more Information!)
May 15th, 2012
Since Electric Vehicles Need to Charge up somewhere, PlugShare.com Logo and link was added to the right hand menu for access from every page on our website, since this is a critical piece of the puzzle - finding out where to charge the Electric Vehicles we are buying, besides at home!
Other Charging Access Points by Coulomb Technologies, are listed on their Charge Point Network site . More information on our Blog.
May 1st, 2012
EV Fest 2012 Advance Tickets Go On Sale, Discounted from Show Cash Prices by $3, Ending Sales at 11:55 PM on September 8th, 2012. At 12:00 AM on September 9th, 2012, EV Fest Tickets Sales Begin online!
For Extra Special Promotions Let us know if you 'Like' our Facebook Page, follow the two Relevant Twitter Accounts, or my Personal LinkedIn Account! Watch These for Extra Special Time Limited Promotions from Time to time! These sites may offer the specials directly, or refer you to the Website or the Blog or Other Places, to Find the Details for the limited Time Offers! Don't forget to look for a Discount Code, and make sure you beat the Short Deadlines to Take Advantage of these Offers! Hint - See this page and the above accounts or pages regularly to not miss the offers!
April 30th, 2012
EV Fest 2012 Early Bird Ticket Sales End!
EV Fest 2012 Unique Exhibitor Count now at 21, but with not less than 22 Vehicles or Exhibitor Display Commitments! Follow the link for the listing with names, links, and locations of where our exhibitors are coming from!
January 15th, 2012
EV Fest 2012 Electric Vehicle Show Website is Launched. New Information, Maps and Images on how to find and get to EV Fest 2012, Exhibitor Rates and processes for Exhibiting, and Ticketing access for EV Fest 2012 - Early Bird Rates are now up!
EV Fest Website preparations for Next EV Fest!
January 10th - 15th, 2012
Preparing content, new information and process for publishing on EV Fest Electric Vehicle Show 2012 Website.
December 15th, 2011 - January 10th, 2012
Negotiating and Preparing Venue plans for EV Fest 2012. Setting and completing Contract.
December 9th - 15th, 2011
Website re-design starts, reordering Menu Items, publishing Past Events access page, preparing a place for Pictures to be posted in a Gallery.
November 6th, 2011
New Subscriber Option added for Following EV Fest and receiving emails, in this link; in the Press, Posters, Media Page; and in the Right Hand Menu area. A selection of relevant Videos have also been shared in the Right Hand Column. Each may be viewed Full Screen.
- - - - - - - - - - - - - - - - - - - - - - - - - - - - - - - - - - - - - - - -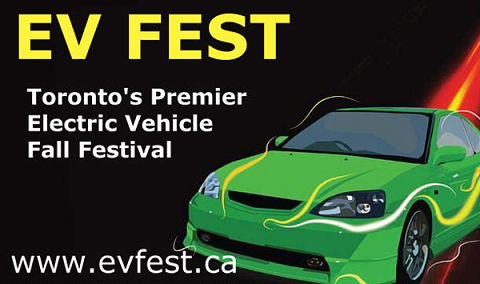 If you see an image above this line - Check it out! It could be a Special Discount for EV Fest Tickets, or other Bonuses!