About Us
EV Fest Electric Vehicle Show began through a collaboration with Robert Weekley and Scarborough Toyota Service Manager Pat Barnes and is fully described in our History page.
It was an event to Showcase Battery Electric Vehicles, Plug-in Hybrids, Hybrids, and Personal Ingenuity in creating solutions and taking personal responsibility to move Electric Vehicles Forward.
At the first ever EV Fest Electric Vehicle Show, on October 17, 2010, held at Toyota-Lexus On The Park on Leslie Street, we estimate over 500 people attended, but we were essentially limited to one Major OEM, due to our location, for Toronto's Premier Electric Vehicle Fall Festival. With this in mind, for 2011 we have our first Event at a Neutral Location, with potential for further growth, more OEM's, Corporate Exhibitors, and more Personal Businesses supporting the move to Efficient Transportation and Electric Propulsion.
Choosing the Evergreen Brick Works included discussions with Past Exhibitors and Potential New OEM and Corporate Exhibitors, and lead us to believe that it was offering a possibility of a Major Step Forward for EV Fest Electric Vehicle Show and so discussions were began, culminating in a final approval for the location late in the season, choosing the Holcim Gallery - or -'The Kilns' as the on-site Venue, leading us to scramble for Organizing EV Fest 2011 in just Six Weeks.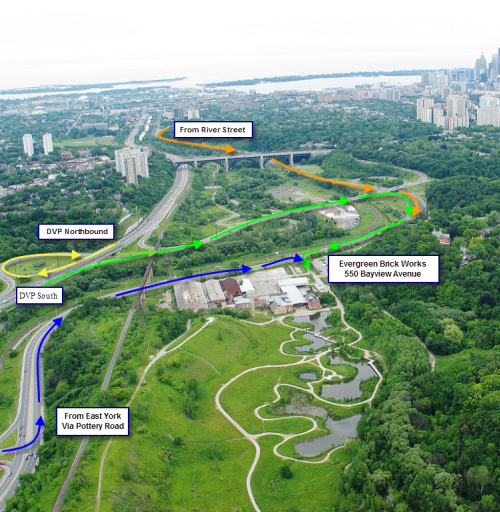 Any offers of assistance in Funding, Sponsoring, and providing leads are all welcome, as well as urging the Major OEM's and related companies to join us as exhibitors at EV Fest!
With room for an estimated 20 - 30 Vehicle sized Exhibits*, the venue offers some new possibilities, as well as the on-site location of Better Place, and AutoShare! (*EV Fest 2011 held 36 on site Exhibitors!)
Tell Everyone you know, your friends in the press, your Facebook, Linkedin, and Twitter contacts, and come out and support EV Fest 2011 in making sure events like this continue to offer one-stop Shopping, Education, and Networking opportunities for Electric Vehicle acquisition, Green Energy opportunities, and a place to meet new friends of like mind!